Admission Exam
As part of the admission process, all applicants to the BSN program are required to take the HESI Admission Assessment exam A² from Evolve Testing & Remediation.
The HESI exam must be taken on or before the following dates:
Fall admission: January 15
Spring admission: August 15
We advise scheduling the HESI exam well in advance of the testing deadline as seating may become limited in the testing center of your choice as the deadline nears.
The Evolve Reach Testing and Remediation Admission Assessment Exam is a widely utilized exam for admission screening for nursing and health professions programs that has been chosen by the LSUHSC School of Nursing. There are a few steps you will need to go through in order to fulfill this part of the admission process.
To register for the Elsevier exam, please follow the instructions in this document: click here.
You will receive a Confirmation Notice indicating that you may schedule your exam.
Please carefully review the information contained in your Confirmation Notice. If any of the information is incorrect, or if the information has changed, please contact Elsevier Review and Testing at exameligibilty@elsevier.com.

Please only submit your eligibility information once.

You will receive your Eligibility ID within a minimum of 3 business days of receipt of your eligibility email.
The total cost will be a $105.65 due at the time of your exam payable by credit card.
Allow approximately 4 hours to take your Exam.
---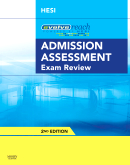 ISBN: 1416056351
With content review and over 450 sample test questions, Evolve Reach Testing and Remediation Admission Assessment Exam Review, 2nd Edition helps you prepare for the Evolve Reach Testing and Remediation Admission Assessment Exam. It includes detailed coverage of each of the subject areas on the exam: math, English, and basic sciences. Topics are simplified with step-by-step explanations, vocabulary, and practice problems with rationales.
This title is available for purchase at: http://www.lsuhsc.edu/administration/ae/hsb.aspx.