Research Priority Areas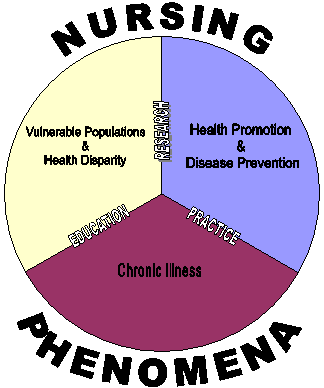 Click on chart areas for definitions.
The School of Nursing has adopted a framework of NURSING PHENOMENA to guide its research efforts. The framework is held together by the functional roles of Education, Practice, and Research. These research efforts are distributed across three priority areas – Vulnerable Populations and Health Disparity, Health Promotion and Disease Prevention, and Chronic Illness. Research at the School of Nursing is guided by these priorities and uniquely identifies and defines the research mission. The research priority areas are directly related to the research areas of the LSU Health Sciences Center.
---
Descriptors of Priority Areas*:
Vulnerable Populations and Health Disparity
To address health related problems of vulnerable populations to decrease their relative risks of disease
To advance the knowledge of the nurse-scientist of the health care concerns of these populations
To understand ways of eliminating disparities in health status among these populations and to promote preventive interventions
Health Promotion and Disease Prevention
To understand factors that facilitate healthy lifestyle behaviors and modification of risky behaviors
To promote awareness of strategies to promote initiation and maintenance of healthy behaviors, and/or avoidance of risky behaviors among diverse populations across the lifespan
Chronic Illness
To advance knowledge of symptom management, avoidance of complications of disease, supporting family caregivers, promoting self-management awareness and practice, and promoting healthy behaviors within the context of the chronic condition.
To understand the economic costs of chronic illnesses
To understand the impact and reach of chronic illnesses
*This list is not exclusive