Student Nurses Association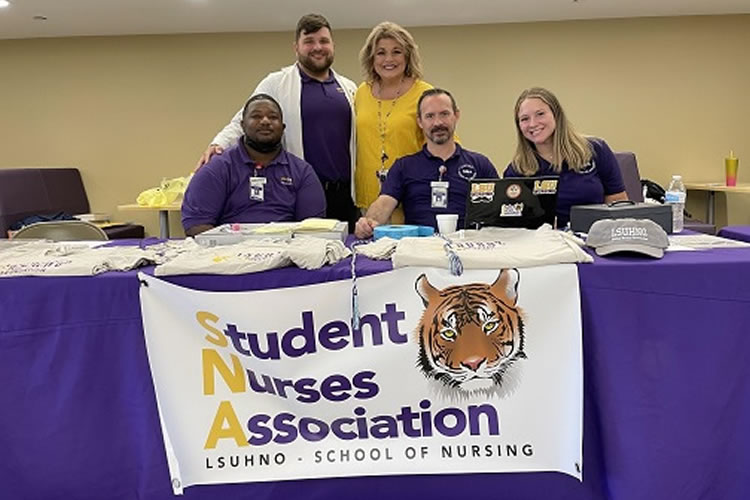 The Student Nurses Association is open to all pre-nursing and nursing students. The mission of LSUHSC SNA is to enhance nursing education through community service activities that promote social and professional development. Membership in LSUHSC SNA confers membership in the district, state and National Student Nurses Association.
---
Meetings Dates
Meeting
Date
Time
Location
Meeting
August 22, 2016
12:00-1:00pm
MEB Seminar Room 4
Meeting
September 19, 2016
12:00-1:00pm
MEB Seminar Room 4
Meeting
October 10, 2016
12:00-1:00pm
MEB Seminar Room 4
Meeting
November 14, 2016
(officer elections)
12:00-1:00pm
MEB Seminar Room 4
Membership Information
New members of LSUHSC SNA are welcomed at any time! If you have any questions about membership or becoming a member, contact an officer. If you want to sign up, click this link, and click NSNA Dues Schedule and Membership Application. You may pay for your membership through this link on the NSNA website..
Chapter dues are $5.00 per year
To pay these chapter dues, print your confirmation of membership and put this confirmation and the $5.00 chapter dues into an envelope with your name on it and give it to the treasurer.
Checks are made out to SNA @ LSUHSC
How to Apply for NSNA Membership
Bylaws
NSNA and SNA Code of Conduct
Maintain the highest standard of personal and professional conduct.
Actively promote and encourage the highest level of ethics within nursing education, the profession of nursing, and the student nurses' association.
Refuse to engage in, or condone, discrimination on the basis of race, gender, age, citizenship, religion, national origin, sexual orientation, or disability.
Treat others with respect and promote an environment that respects human rights, values and choice of cultural and spiritual beliefs
Abstain from the use of alcoholic beverages or any substances in the academic and clinical setting that impair judgment
Point System
In order to earn the blue and white SNA graduation cord, a student must be a paying member of SNA no later than the membership deadline of their Junior II semester or the equivalent for CARE, and earn at least 12 points by graduation. If Senior II's want their cord by composites pictures, points must be completed by the beginning of their graduating semester. Points are earned by participating in volunteer events and/or by contributing to monthly donation events.
Participation in one volunteer event for the assigned duration = 1 point
Blood drive volunteering = 0.5 points (due to shorter shifts)
Blood donation during LSUHSC School of Nursing Blood Drives = 0.5 point
Donation Credits

4 donation events (8 items each event) = 0.5 credit
8 donation events = 1 credit
Credit will only be given for the first 8 items donated
A donation credit appears as a "0)

Monthly donation of 8 items/drive = 1 donation credit. Donation credit appears as a "0", and 4 donation "0"s = 1 point.
Participation in SMART CAFÉ and/or NOARHP = 0.5 points/lesson taught
Community Service Events
October Events
Wednesday, October 12th
What: Great 100 Nurses Celebration

The Great 100 Nurses Foundation was founded in New Orleans, Louisiana thirty years ago and since then has honored thousands of Nurses across Louisiana, North Carolina, Texas, and now Oklahoma. These exemplary Nurses are selected based on their concern for humanity, their contributions to the profession of Nursing, and their mentoring of others. It is a great honor in the life of the Nurse. Our Foundation helps each RN walk taller and recognize themselves as Nurse Heroes.

Where: Ponchartrain Center 4545 Williams Blvd Kenner LA 70065
When:

1st Shift: 1:00- 5:00pm

Event set up and fundraiser

2nd Shift: 5:00 to end (9:30 or 10:00pm)

Dress: SON Uniform with white coat
Number of Volunteers Needed: 40
Worth: 1 point
Contact SNACSC@lsuhsc.edu Attn: Nicole Koppi

Thursday, October 13th
What: NOWS Breast Cancer Awareness and Prevention

The women will be learning how to perform self breast exams and the importance of scheduling mammograms

Where: NOWS Shelter
When: 6:30- 8:00pm
Dress: SON Uniform
Number of Volunteers Needed: Unlimited
Worth: .5 points
Contact Nkoppi@lsuhsc.edu
To sign up
Tuesday, October 18th
What: Night Out Against Crime

We will be providing information about car seat safety, distributing condoms, performing blood pressure screenings and offering pill boxes, band-aid containers and cold packs. This is a community-wide event to raise crime prevention awareness, reduce crime and increase the support of local, state and federal law enforcement.

Where: A.L. Davis Park (2600 LaSalle St.)
When: 5:30pm
Dress: SON Uniform with White Coat
Number of Volunteers Needed: 15
Worth: 1 point
Contact SNACSC@lsuhsc.edu Attn: Nicole Koppi
To sign up
Thursday, October 20th
What: NOWS STD Education and Prevention

SNA is partnering with IPSA

Where: NOWS Shelter
When: 6:30- 8:00pm
Dress: SON Uniform
Number of Volunteers Needed: Unlimited
Worth: .5 points
Contact Nkoppi@lsuhsc.edu
To sign up
Saturday, October 22nd
What: NOWS Clinic on Women's health

Sponsored by St. Thomas Clinic

Where: NOWS Shelter
When: 10:00 – 1:00pm
Dress: SON Uniform
Number of Volunteers Needed:
Worth: 1 point
Contact Nkoppi@lsuhsc.edu
To sign up
October 21st, 22nd, 28th, 29th
What: Boo at the Zoo:

Boo at the Zoo is a safe and fun Halloween event for children and their families that benefits Children's Hospital and the Audubon Zoo
Volunteers will be placed in various areas including Games Area, Toddler Games, Trick or Treat Houses, Front Entrance, and the Mombasa Train Ride.

Where: Audubon Zoo
When: The event is from 5:00 to 9:00p.m. each night and volunteers are needed from 4:00 until 9:30pm for set up and tear down, and must commit to the entire time.
Dress: TBD
Number of Volunteers Needed: 7-8 per shift
Worth: 1 point per shift
Contact SNACSC@lsuhsc.edu Attn: Nicole Koppi
Donation: October donation items are for the NOLA Family Justice Center, which specifically benefits domestically battered women and their children. October is domestic violence awareness month. We will be collecting dishwashing liquid, paper towels, laundry detergent, bleach, dish towels, small baskets, food storage containers, flatware & cutlery, garbage bags, toilet tissue, soap, toothpaste and toothbrushes, toiletries, household cleaning supplies, cleaning wipes, paper products (cups, plates, napkins)
Fundraising
Upcoming Conventions
| | | |
| --- | --- | --- |
| October 20-23, 2016 | LASN State Convention | Shreveport, LA |
| November 10-13, 2016 | NSNA Mid-Year Convention | Kansas City, MO |
| April 5-9, 2017 | NSNA National Convention | Dallas, TX |
Meeting Minutes
Helpful Links
National Student Nurses Association (NSNA)
www.nsna.org
Louisiana Student Nurses Association (LASN)
www.lasn.org
NSNA Code of Academic and Clinical Conduct
http://www.nsna.org/Publications/AcademicClinicalConduct.aspx
NSNA Code of Professional Conduct
http://www.nsna.org/Publications/ProfessionalConduct.aspx
NSNA Code of Academic and Clinical Conduct Interpretive Statements
http://www.nsna.org/Portals/0/Skins/NSNA/pdf/NSNA_CoC_Academic_
Clinical_Interp_Statements.pdf
NSNA Student Bill of Rights and Responsibilities
http://www.nsna.org/Publications/BillofRights.aspx