Student Nurses Association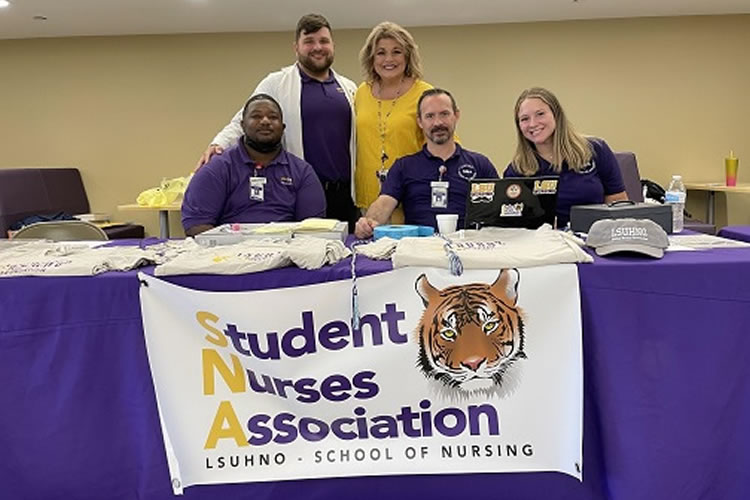 The Student Nurses Association is open to all pre-nursing and nursing students. The mission of LSUHSC SNA is to enhance nursing education through community service activities that promote social and professional development. Membership in LSUHSC SNA confers membership in the district, state and National Student Nurses Association.
---
Meetings Dates
Meeting
Date
Time
Location
Meeting
January 23, 2017
12:00-1:00pm
MEB Seminar Room 4
Meeting
February 13, 2017
12:00-1:00pm
Lecture Hall A
Meeting
March 13, 2017
(officer elections)
12:00-1:00pm
MEB Seminar Room 4
Meeting
April 24, 2017
12:00-1:00pm
MEB Seminar Room 4
Membership Information
New members of LSUHSC SNA are welcomed at any time! If you have any questions about membership or becoming a member, contact an officer. You may pay for your membership through this link on the NSNA website..
Chapter dues are $5.00 per year
To pay these chapter dues, print your confirmation of membership and put this confirmation and the $5.00 chapter dues into an envelope with your name on it and give it to the treasurer.
Checks are made out to SNA @ LSUHSC
For Spring 2017, dues are due on February 13th. If you cannot make it to the meeting on this day, you must have your dues in Mrs. Bernard's mailbox no later than 5:00 pm. If you do not get your dues in by this time, you will not be considered an active member and you will not be eligible to accrue points for receive a cord for this semester.
Bylaws
NSNA and SNA Code of Conduct
Maintain the highest standard of personal and professional conduct.
Actively promote and encourage the highest level of ethics within nursing education, the profession of nursing, and the student nurses' association.
Refuse to engage in, or condone, discrimination on the basis of race, gender, age, citizenship, religion, national origin, sexual orientation, or disability.
Treat others with respect and promote an environment that respects human rights, values and choice of cultural and spiritual beliefs
Abstain from the use of alcoholic beverages or any substances in the academic and clinical setting that impair judgment
Point System
In order to earn the blue and white SNA graduation cord, a student must be a paying member of SNA no later than the membership deadline of their Junior II semester or the equivalent for CARE, and earn at least 12 points for traditional students, and 8 points for CARE, by graduation. If Senior II's want their cord by composites pictures, points must be completed by the beginning of their graduating semester. Points are earned by participating in volunteer events and/or by contributing to monthly donation events.
Participation in one volunteer event for the assigned duration = 0.5 point or 1 point
Blood drive volunteering = 0.5 points (due to shorter shifts)
Blood donation during LSUHSC School of Nursing Blood Drives = 0.5 point
Donation Credits

4 donation events (8 items each event) = 0.5 credit
8 donation events = 1 credit
Credit will only be given for the first 8 items donated
A donation credit appears as .125
Community Service Events
April Donations
The SPCA is a nonprofit organization dedicated to the elimination of animal suffering. They have been committed to serving the needs of the people and animals in New Orleans and across the region for more than 125 years.
1700 Mardi Gras Blvd., New Orleans, LA 70114

Towels
Dog beds
Dog training treats (soft and hard unopened high value treats)
Milkbone brand dry dog biscuits (size—small or medium)
Pup-peroni beef flavored treats
Kitty litter (non-clumping)
Plastic cat toys
Boxes of ping pong balls
Ski rope leashes
Non-plush dog toys suitable for sanitizing (like Kong)
NylaBones
Dry and canned dog/cat food (*unopened)
Rubbermaid storage containers
Scotch scrub pads
Formula 409
Windex
Bleach
May
Graduation Rehearsal
When: Tuesday, May 16th, 2017
Where: Human Development Center by entrance
Number of Volunteers: 5-6
Shift: 12:00 - 4:00pm
Dress Code: School Uniform with white coat
Contact: Vmcelr@lsuhsc.edu
Graduation Award Ceremony
When: Wednesday, May 17th, 2017
Where: UNO Lakefront Arena Gym -- Entrance located on North-West side, 1st floor
Number of Volunteers: 8-10
Shift: 7:30 - 11:00am
Dress Code: School Uniform with white coat
Contact: Vmcelr@lsuhsc.edu
Gears for Gals Charity Bike Ride
Volunteers will be working at a rest stop on the route-- set up, tear down, giving out snacks and water. Volunteers will get a t-shirt and are invited to the after-party, where there will be many Ochsner employees as this is an Ochsner associated event.
When: Sunday, May 21st, 2017
Where: Various locations around New Orleans and West Bank
Worth: 1 point
Contact: llever@lsuhsc.edu
Upcoming Conventions
| | | |
| --- | --- | --- |
| October 5-8, 2017 | LASN Convention | Baton Rouge, LA |
| November 2-5, 2017 | NSNA Mid-Year Conference | San Diego, CA |
Meeting Minutes
Newsletters
Fundraiser
Classic Cardiology stethoscope - $100
Procardial C3 stethoscope - $120

---

MD One stethoscope - $50
Acoustica lightweight stethoscope - $20

---

Calibra Pro Sphygmomanometer - $30
Medica Palm Sphygmomanometer - $50

---

Clinical Clipboard - $20
Helpful Links
National Student Nurses Association (NSNA)
www.nsna.org
Louisiana Student Nurses Association (LASN)
www.lasn.org
NSNA Code of Professional Conduct
https://www.dropbox.com/s/5k0wr4sw3bisiho/Code of Professional Conduct.pdf?dl=0
NSNA Code of Academic and Clinical Conduct Interpretive Statements
https://www.dropbox.com/s/sdk51g6r3c2pzpc/Code of Academic and Clinical Conduct With Interpretive Statements.pdf?dl=0
NSNA Student Bill of Rights and Responsibilities
https://www.dropbox.com/s/4z3f18l3knxehw0/Nursing Student Bill of Rights and Responsibilities.pdf?dl=0