Student Nurses Association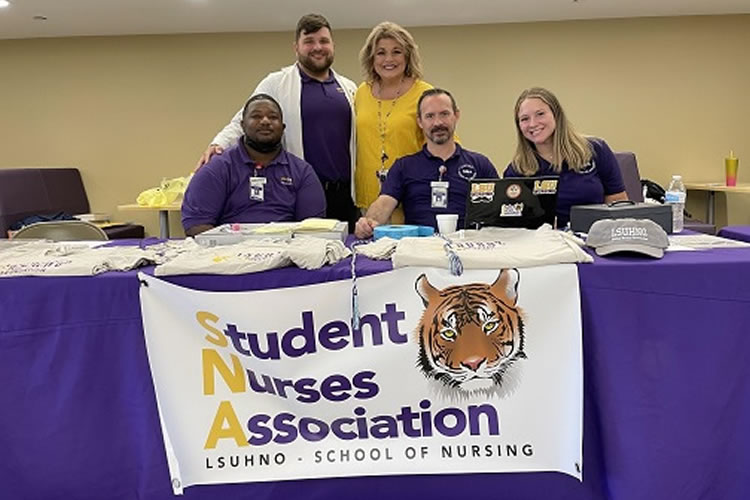 The Student Nurses Association is open to all pre-nursing and nursing students. The mission of LSUHSC SNA is to enhance nursing education through community service activities that promote social and professional development. Membership in LSUHSC SNA confers membership in the district, state and National Student Nurses Association.
---
Community Service Events
July
July 3rd (Sunday)
City Park 3rd of July Celebration (on the Great Lawn)
Location: City Park Great Lawn (By the Peristyle)
Time: 4:30-7:00 p.m.
# Volunteers: 10
We will help to install recycling and trash containers around the Great Lawn before the event starts. This will last about 30 minutes. The next two hours will be spent handing out fans to guests as they arrive. The celebration begins at 7:00, so you can enjoy the music and fireworks afterwards! For more info about the event, contact Reynecia Douglas (SNACSC@lsuhsc.edu)
Upcoming Conventions
| | | |
| --- | --- | --- |
| October 20-23, 2016 | LASN State Convention | Shreveport, LA |
| November 10-13, 2016 | NSNA Mid-Year Convention | Kansas City, MO |
| April 5-9, 2017 | NSNA National Convention | Dallas, TX |
Upcoming Meetings
Meeting Minutes
Bylaws
Membership Information
New members of LSUHSC SNA are welcomed at any time! If you have any questions about membership or becoming a member, contact an officer. If you want to sign up, click this link, and click NSNA Dues Schedule and Membership Application. You may pay for your membership through this link on the NSNA website..
Chapter dues are $5.00 per year
To pay these chapter dues, print your confirmation of membership and put this confirmation and the $5.00 chapter dues into an envelope with your name on it and give it to the treasurer.
Checks are made out to SNA @ LSUHSC
Fundraising
Point System
In order to earn the blue and white SNA graduation cord, a student must be an active paying member of SNA, and earn at least 12 points by graduation. If Senior II's want their cord by composites pictures, points must be completed by the beginning of their graduating semester. Points are earned by participating in volunteer events and/or by contributing to monthly donation events.
Participation in one volunteer event for the assigned duration = 1 point
Blood drive volunteering = 0.5 points (due to shorter shifts)
Blood donation during LSUHSC School of Nursing Blood Drives = 0.5 point
Donation Credits

4 donation events (8 items each event) = 0.5 credit
8 donation events = 1 credit
Credit will only be given for the first 8 items donated
A donation credit appears as a "0)

Monthly donation of 8 items/drive = 1 donation credit. Donation credit appears as a "0", and 4 donation "0"s = 1 point.
Participation in SMART CAFÉ and/or NOARHP = 0.5 points/lesson taught
Helpful Links
National Student Nurses Association (NSNA)
www.nsna.org
Louisiana Student Nurses Association (LASN)
www.lasn.org
NSNA Code of Academic and Clinical Conduct
http://www.nsna.org/Publications/AcademicClinicalConduct.aspx
NSNA Code of Professional Conduct
http://www.nsna.org/Publications/ProfessionalConduct.aspx
NSNA Code of Academic and Clinical Conduct Interpretive Statements
http://www.nsna.org/Portals/0/Skins/NSNA/pdf/NSNA_CoC_Academic_
Clinical_Interp_Statements.pdf
NSNA Student Bill of Rights and Responsibilities
http://www.nsna.org/Publications/BillofRights.aspx