Student Nurses Association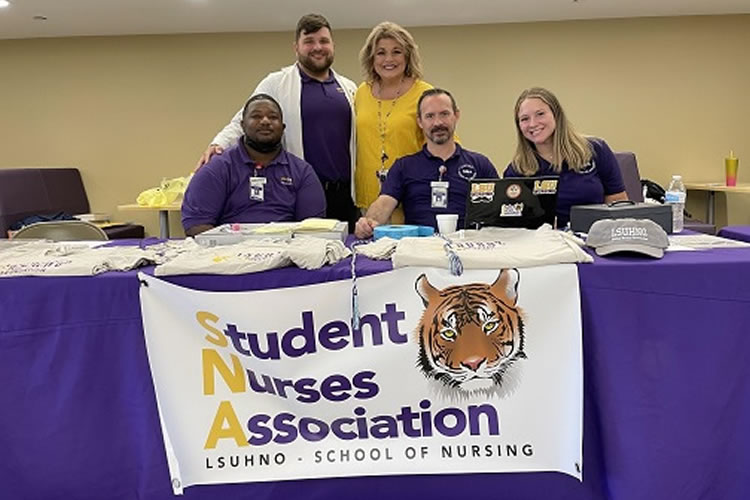 The Student Nurses Association is open to all pre-nursing and nursing students. The mission of LSUHSC SNA is to enhance nursing education through community service activities that promote social and professional development. Membership in LSUHSC SNA confers membership in the district, state and National Student Nurses Association.
---
Community Service Events
August
August 6th
August 18th Date: Monday, August 18 and TBD
Location: MEB 7/8 and TBD
Time: 08:30 – 4:00pm
# Volunteers: 3 per shift for 1 hour

Volunteers at blood drive will be helping to sign blood donors in, as well as recruiting for blood donors at various places in the MEB (cafeteria). We will also be helping with the Blood Center any miscellaneous tasks they need help with. The first and last shift will be helping take down and put up the Blood Center's equipment. For more information about this event, contact the SCS who will be organizing the event, Kellie Jones (SNACSC@lsuhsc.edu).

August 23rd

16th Annual Children's Museum CHAIRish the Children Auction Gala
Set up: 12:30pm – 5:00pm (6 volunteers)
Actual Event: 6:00pm – 12:00am (8 volunteers)

This event will benefit the Louisiana Children's Museum. It will be a night filled with fun and entertainment with all proceeds going to the museum. The attire is disco! It will feature fantastic auction items including whimsical, one-of-a-kind chairs, delicious food and drink from over 20 of the city's best restaurants, live entertainment, and more! We will assist with sign in, picking up food/trash during the event, serving food, helping out with the auction, and assisting with clean up after the event. This will be a really fun event for us all and for a great cause! For more information, contact Jessica Granier at SNACSC@lsuhsc.edu. Hope to see you boogie on down to this event!
August Donations (August – October 8th)
Until October 8th, we will be participating in LASN's Community Health Project by collecting STRESS BALLS and JOURNALS for the Audrey Hepburn Care Center. This center is a comprehensive child abuse center that serves children who are victims of sexual and physical abuse and neglect. These items are being collected to provide the children with an outlet during times of increased stress. The children especially enjoy journals with locks to promote privacy of their writing. The school that collects the largest amount will receive an award at convention. Since all of our members are so great and we know how generous you are, we hope to win this award once again! These websites may be helpful in purchasing items:
http://www.nationalautismresources.com/fidget-toys.html
http://www.officeplayground.com/Stress-Balls-C9.aspx
It would probably be a good idea for a few of you to get together to buy wholesale items. Bring all donations to Mrs. Bernard's office, 1st floor of nursing building. Put at least 8 items in the box and sign the designated sheet to receive credit! Lets collect lots of these items!
Upcoming Conventions
| | | |
| --- | --- | --- |
| October 9-12, 2014 | LASN Convention | Lafayette, LA |
| November 6-9, 2014 | Mid-Year Convention | Portland, OR |
| April 8-12, 2015 | National Convention | Phoenix, AR |
| March 30-April 3, 2016 | National Convention | Orlando, FL |
---
Upcoming Meetings
| | | | |
| --- | --- | --- | --- |
| Meeting | August 18, 2014 | 7:00 am | MEB Seminar Room 4 |
| Meeting | September 15, 2014 | 7:00 am | MEB Seminar Room 4 |
| Meeting | October 13, 2014 | 7:00 am | MEB Seminar Room 4 |
| Meeting | November 10, 2014 | 7:00 am | MEB Seminar Room 4 |
Meeting Minutes
Bylaws
Membership Information
New members of LSUHSC SNA are welcomed at any time! If you are interested in becoming a member of LSUHSC SNA or have a question about membership, please contact one of the officers via e-mail.
Fundraising
Fleece - $32

Clipboard - $15

Badge Reel - $8

SNA T-Shirt - $12
If you are interested in making a purchase, please contact Chelsea Gandolfi: cgando@lsuhsc.edu
Helpful Links
National Student Nurses Association (NSNA)
www.nsna.org
Louisiana Student Nurses Association (LASN)
www.lasn.org
NSNA Code of Academic and Clinical Conduct
http://www.nsna.org/Publications/AcademicClinicalConduct.aspx
NSNA Code of Professional Conduct
http://www.nsna.org/Publications/ProfessionalConduct.aspx
NSNA Code of Academic and Clinical Conduct Interpretive Statements
http://www.nsna.org/Portals/0/Skins/NSNA/pdf/NSNA_CoC_Academic_
Clinical_Interp_Statements.pdf
NSNA Student Bill of Rights and Responsibilities
http://www.nsna.org/Publications/BillofRights.aspx