Scheduled or Planned Programs
Programs
| | |
| --- | --- |
| Title: | Delivering Culturally Sensitive Care to LGBT+ Patients: An Advocacy Program |
| Date: | Friday, August 3, 2018 |
| Location: | LSU Health New Orleans School of Nursing |
The purpose of this "train the trainer" course is so participants can conduct this training in their facilities and promote diversity, inclusion, acceptance, and improve patient outcomes. The class will begin with self-introductions and then discussion of the health disparities in LGBT+ patients and how healthcare providers can improve outcomes. The activities will begin with a vocabulary match up game where participants will learn important and appropriate LGBT+ terminology to improve patient communication. The participants will also engage in an activity that allows them to create diverse and inclusive work-spaces for staff and patients. The Cass Model (by Dr. Vivien Cass) will be demonstrated so the participants can understand the psychological process of "coming out" and best communication techniques to approach a patient who is in each phase of the model. The participants will also be given an activity that requires them to identify myths and stereotypes bestowed upon LGBT+ patients and how these labels affect their health. The concept of gender fluidity will be discussed and compared to traditional binary views of masculinity and femininity. Participants will be taught how to create a psychologically safe spaces through respectful communication and self-reflection. Most importantly, a guest speaker will be present to share story and answer questions from participants.
Mission:
The mission of the Advocacy Program is to be leaders in the intergration of, inclusion, and equity to ameliorate health inequities and create affirming healthcare environments.
Goals For Training:
Provide diverse educational programs and traing programs for different specialties.
Integrate components of psychologically safe spaces during all interactive training sessions.
Teach respectful communication skills in obtaining medical histories and providing culturally competent care for all individauls, families, and communities.
Products & Cost:
7.1 continuing education hours
Training manual access
Personal consultation from an LSUHNO SON representative for one year
Certification as an AdvocacyTM Trainer
$375 per participant
The Importance Of Training:
The CDC (2015) reported gay, lesbian, and bisexual people are:
30.5% more likely to feel sad or hopeless
13.6% more likely to be vistims of sexual violence
23% more likely to attempt suicide
In transgender and gender nonconforming people:
78% experienced harassment and have felt negative emotions
12% were afflicted with sexual violence
32 - 50% of transgender people attempt suicide annually
This Advocacy Program training session will be conducted at LSUHNO School of Nursing (1900 Gravier Street, New Orelans, LA) and will include interactive group activites, case studies, games, sharing of experiences, and question and answer time with a transgender patient.
Payment is accepted by check or credit card.
Make checks payable to LSUHNO School of Nursing and mail to:
Sherri Chalona
LSUHNO School of Nursing
1900 Gravier Street
New Orleans, LA 70112
Credit card payments can be made through RegOnline. RegOnline charges a $22.51 service fee for credit card payments for this event ($397.51 total). To pay by credit card through RegOnline, use the following link: https://www.regonline.com/advocacyprogram.
Questions - email nsgconted@lsuhsc.edu
---
Participants will earn 7.1 contact hours of continuing nursing education. Participants must register for the activity, be present for the entire activity, and submit the an evaluation to receive contact hours.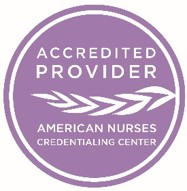 Louisiana State University (LSU) Health New Orleans School of Nursing, Faculty Development,    Continuing Nursing Education & Entrepreneurial Enterprise is accredited as a provider of continuing    nursing education by the American Nurses Credentialing Center's Commission on Accreditation.

Disclosures: There is no conflict of interest or relevant financial interest by the faculty or planners of this activity. There is no commercial support of this activity. There is no endorsement of any product by LSUHNO School of Nursing for this activity.
---
Sign Up
If you've registered with us before, please log in. If not, please click the register button.