Scheduled or Planned Programs
Programs
Title:
Certified Systematic Reviewer Training
Date:
Monday, June 11, 2018 to Friday, June 15, 2018
Location:
LSU Health-New Orleans School of Nursing
1900 Gravier St
New Orleans, LA 70112
Time:
8:30am – 4:30pm daily
The Louisiana Center for Promotion of Optimal Health Outcomes: A Joanna Briggs Institute Center of Excellence invites you to attend a 5-day workshop
Who is JBI?
The Joanna Briggs Institute (JBI) is the international not-for-profit, research and development center within the Faculty of Health Sciences at the University of Adelaide, South Australia.
The Institute collaborates internationally with over 70 entities across the world. The Institute and its collaborating entities promote and support the synthesis, transfer and utilization of evidence through identifying feasible, appropriate, meaningful and effective healthcare practices to assist in the improvement of healthcare outcomes globally.
What is a systematic review?
A systematic review (SR) summarizes, synthesizes, and critically appraises the results of available carefully designed healthcare studies (controlled trials) to provide a high level of evidence on the effectiveness of healthcare interventions. The SR provides the clinician with the best available evidence to inform point-of-care clinical decisions.
Certified Systematic Reviewer Training incorporates theory and hands-on experience to provide participants with rigorous methods and evidence-based instruments to appraise and synthesize research literature. Participants will develop a focused question, search for relevant literature, and appraise and synthesize evidence arising from research. Interactive training is activity-driven using JBI software to perform meta-analysis and meta-aggregation of selected studies.
Why do I need SR training?
The SR training provides the reviewer with a framework and process to work within to insure a consistent and rigorous manner of analysis is performed.
Weeklong sessions will include:
Introduction to Evidence-Based Healthcare & the Systematic Review of Evidence
Developing Protocols for Systematic Review
Systematic Review of Evidence Generated by Quantitative Research, Qualitative Research, & Narrative & Text
Registration fee is $1,500 (includes a $150.00 non-refundable deposit) due no later than May 25, 2018. Deposits may be refundable if cancellations are received as of May 25, 2018. Discounted fees are available for LSUHNO graduate students.
Eligible participants will earn 32.1 contact hours of continuing nursing education.
Tuition includes all materials and daily continental breakfast.
Payment is accepted by check or credit card.
Make checks payable to LSUHNO School of Nursing and mail to:
Sherri Chalona
LSUHNO School of Nursing
1900 Gravier Street
New Orleans, LA 70112
Credit card payments can be made through RegOnline. RegOnline charges a $78.20 service fee for credit card payments for this event ($1,578.20 total). To pay by credit card through RegOnline, use the following link:
https://www.regonline.com/jbicsrtjune18.
For more information, contact Dr. Marsha Bennett at mbenne@lsuhsc.edu. To learn more about Joanna Briggs Institute and its international leadership in the promotion and facilitation of evidence-based healthcare, visit http://www.joannabriggs.org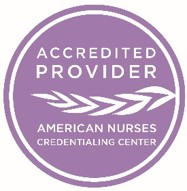 LSU Health New Orleans School of Nursing, Faculty Development, Continuing Nursing Education &     Entrepreneurial Enterprise is accredited as a provider of continuing nursing education by the American     Nurses Credentialing Center's Commission on Accreditation.
---
Sign Up
If you've registered with us before, please log in. If not, please click the register button.