Nurse Practitioner Fellowship Program
Nurse Practitioner Fellowship Program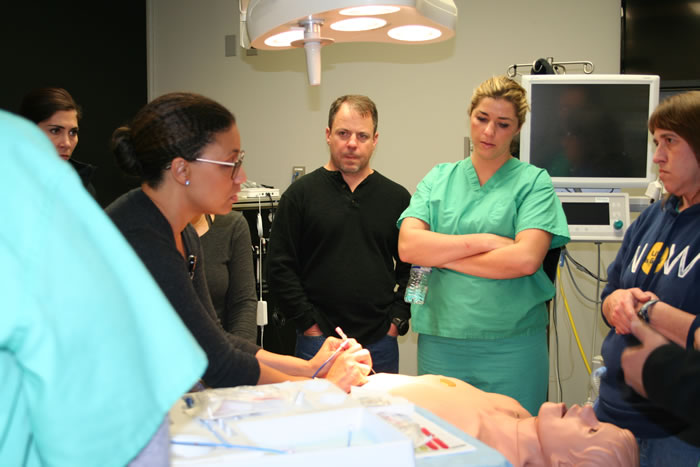 Description
In collaboration with academic-practice partners, this is a 12 month post-graduate transition-to-practice program for Nurse Practitioners (NPs) transitioning to a new clinical practice. The program offers structured, on-site didactic and clinical training within partnering community-based clinics and hospitals to build upon the population-focused NP competencies and graduate NP education obtained. An additional focus on the development of proficiency in the advanced nursing care of medically underserved populations and health systems leadership. Nurse Practitioner Fellows can be hired in an acute or primary care focused concentration for adults, pediatrics; or for primary care family across the lifespan NPs per respective clinical partner's need.
Mission
To enhance nurse practitioners' proficiency and evidenced-based care of underserved populations.
Program Outcomes

By the end of the 12-month NP Fellowship Program, participants will:

Demonstrate proficiency in the advanced nursing care of medical or mental health underserved populations.
Demonstrate leadership skills through the completion of a capstone project focused on improved health outcomes for underserved populations.
Accept employment with a clinical agency in a medical or mental health underserved area.
Eligibility Criteria

Unencumbered LA RN & APRN licensure
Board Certification in respective role and population-focus
Full-time employment with a partnering healthcare agency
Completed application by deadline
<= 18 months post-graduation or evidence of transitioning to new clinical practice area
Available Population-focused Programs

Psychiatric Mental Health – Metropolitan Human Services District
Neonatal Intensive Care – Children's Hospital New Orleans

Example of Curricula Topics

Principles of Professional NP Practice
Health Equity for Underserved Populations
Systems-level Leadership Skills
Leading Quality Improvement
Interprofessional Collaboration
Health Policy and Advocacy
Utilizing Telehealth Modalities to Increase Access to Care
Coaching Strategies for Self-Efficacy
Self-care and Burnout Prevention
Population-Focused Clinical Updates and Skills for Proficient Practice

Critical Care populations
Primary Care populations
Psychiatric Mental Health
Informationals coming soon.
Application Deadline:  May 30, 2023
First cohort will start August 2023
For more information, contact Leanne Fowler at (504) 568-4156 or lfowle@lsuhsc.edu