Faculty Practice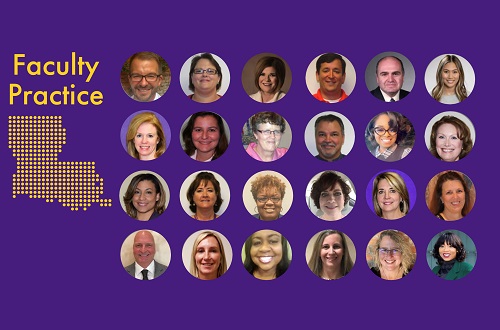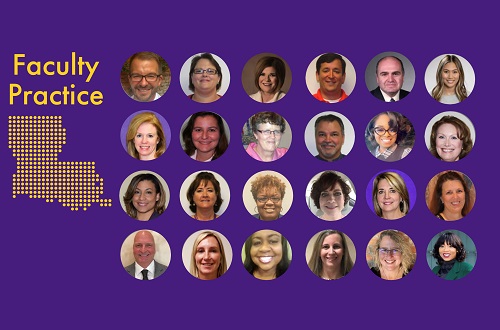 Mission
To provide LSUHSC School of Nursing faculty and students with the opportunity to engage in practice. Faculty and students are provided the opportunity to enhance their educational experiences and research in order to deliver quality evidenced based care to the community and public.
Vision Statement
To develop statewide clinics that provide quality preventive/primary care, education and research opportunities through innovative nursing faculty practice.
Benefits of Faculty Practice
To promote opportunities for demonstration of clinical expertise while serving as role models for professional nursing students.
To improve nursing practice by promoting professional dialogue and collaborative endeavors between education and service.
To provide incentives for nursing faculty to maintain their skills as practitioners and thereby improve patient/client care and health care delivery.
To maintain required nursing certification and licensure.
To enhance the recruitment and retention of highly capable and qualified faculty members by offering a means with which to supplement base income.
Faculty Practice Sites
Faculty Practice Committee
Membership
The Faculty Practice Committee shall be comprised of six faculty members who are actively contributing participants in the Plan.
Faculty members on the Faculty Practice Committee shall be elected by the Faculty from those eligible.
The composition of the Faculty Practice Committee shall include faculty from each program and several types of practice activities.
The term of membership for elected committee members shall be two years except for the first year when 50% of the elected membership shall hold a one (1) year term.
The Associate Dean for Professional Practice, Community Service and Advanced Nursing Practice shall serve as Chair of the Faculty Practice Committee.
Functions
The functions of the Faculty Practice Committee shall be to:
develop policies and procedures related to faculty practice;
provide consultation to faculty who are interested in faculty practice;
provide educational in-services to the faculty about faculty practice;
make recommendations for modification or revision of the Faculty Practice Plan to the Dean of the School of Nursing.
Publications
Clinical Care Guidelines
Websites