History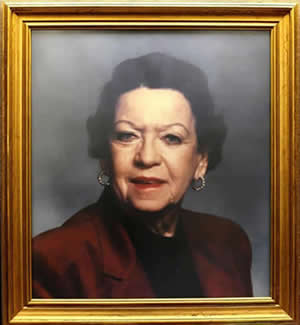 "We started the center in 1972 with no equipment, no learning guides, only a belief that all students have different learning peaks," Joel said. An instructor in the school of nursing at the time, she visited schools of nursing in Arizona, Michigan, and Wisconsin to study established centers.
When Hotel Dieu Volunteer Joel Bishop reminisces about her career, undoubtedly on the top of her list of achievements is the establishment of the Multimedia Center at the School of Nursing now NSTC, Louisiana State University Health Sciences Center. In recognition of this outstanding accomplishment, Dr. Helen Dunn, former Dean of the School of Nursing, recently unveiled a portrait of Joel during a reception in her honor. The portrait hangs in a specially lighted cove in a central area of the Multimedia Center.
Today, the NSTC, located on the fifth and second floor of the Nursing and Allied Health Professional Building on Gravier Street, encompasses a variety of sophisticated learning aids. High-fidelity sim labs and a 15-bed hospital lab allow students to set their own learning pace. The members of the faculty and staff are always present if help is needed.
"We stated the center with one basic skill at one level," Joel said. "Today the center helps students at the associate, baccalaureate and masters levels. It is so rewarding to see how the center has grown and continues to grow."
Joel became a Hotel Dieu volunteer following her retirement in 1980. She is assigned to the Surgery waiting area each Monday morning.
Hotel Dieu Hospital was founded by the Daughters of Charity an order of nuns. Hotel Dieu opened its doors in 1859, more than a century after the founding of Charity Hospital. Hotel Dieu is French for "House of God." The hospital was founded, owned, and operated by the Daughters of Charity, and was the only private hospital in New Orleans that stayed open during the Civil War.
The present building was completed in 1972, replacing a structure completed in 1924, which, in turn, had replaced the original Hotel Dieu.
During the hospital's long history, it saw New Orleans through two major yellow fever epidemics (1853 and 1897). It was the first hospital in the nation to air-condition its surgical suites (1913), and it was the site of milestone medical research that developed sulfonamide drug treatment for meningitis (the 1940s).
At the end of 1992, the Daughters of Charity sold Hotel Dieu to the state and the hospital was re-named "University Hospital". After Hurricane Katrina, Charity Hospital closed and University Hospital was updated, becoming the main campus of LSUHSC. University Hospital was then renamed "LSU Public Hospital".