Student Nurses Association
Student Nurses Association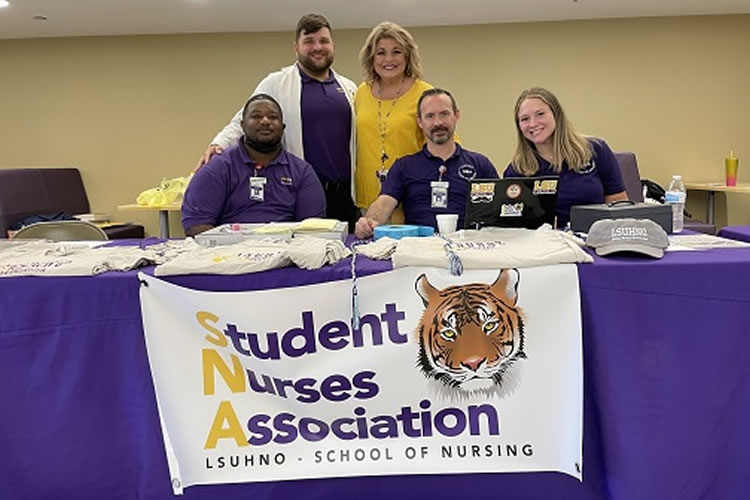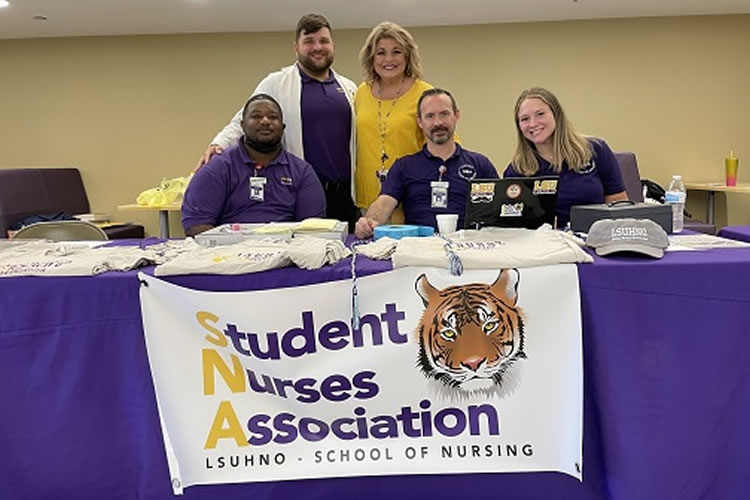 The Student Nurses Association is open to all pre-nursing and nursing students. The mission of LSUHSC SNA is to enhance nursing education through community service activities that promote social and professional development. Membership in LSUHSC SNA confers membership in the district, state and National Student Nurses Association.
Meetings Dates
| | | | |
| --- | --- | --- | --- |
| Meeting | Date | Time | Location |
| Meeting | Monday, January 24th, 2022 | 12:00-1:00pm | via Zoom |
| Meeting | Monday, February 14th, 2022 | 12:00-1:00pm | via Zoom |
| Meeting | Monday, March 14th, 2022 | 12:00-1:00pm | via Zoom |
| Meeting | Monday, April 11th, 2022 | 12:00-1:00pm | via Zoom |
Membership Information
New members of LSUHSC SNA are welcomed to join by the second meeting of each semester! If you have any questions about membership or becoming a member, contact the President. You may pay for your membership through this link on the NSNA website, http://www.nsna.org/membership.html
Chapter dues are $5.00 per year in cash or check
To pay these chapter dues, print your confirmation of membership and put this confirmation and the $5.00 chapter dues into an envelope with your name on it and give it to the treasurer.
Checks are made out to SNA @ LSUHSC
For Spring 2020, dues are due on February 10th. If you cannot make it to the meeting on this day, you must have your dues in Ms. Deeves' mailbox, 162 Nursing School building, no later than 5:00 pm. If you do not get your dues in by this time, you will not be considered an active member and you will not be eligible to acquire points for receive a cord for this semester.
Bylaws
NSNA and SNA Code of Conduct
Maintain the highest standard of personal and professional conduct.
Actively promote and encourage the highest level of ethics within nursing education, the profession of nursing, and the student nurses' association.
Refuse to engage in, or condone, discrimination on the basis of race, gender, age, citizenship, religion, national origin, sexual orientation, or disability.
Treat others with respect and promote an environment that respects human rights, values and choice of cultural and spiritual beliefs
Abstain from the use of alcoholic beverages or any substances in the academic and clinical setting that impair judgment
Point System
In order to earn the blue and white SNA graduation cord, a student must be a paying member of SNA no later than the membership deadline of their Junior II semester or the equivalent for CARE, and earn at least 12 points for traditional students, and 8 points for CARE, by graduation. If Senior II's want their cord by composites pictures, points must be completed by the beginning of their graduating semester. Points are earned by participating in volunteer events and/or by contributing to donation events.
Participation in one volunteer event for the assigned duration = 0.5 point or 1 point
Blood drive volunteering = 0.5 points (due to shorter shifts)
Blood donation during LSUHSC School of Nursing Blood Drives = 0.5 point
Donation Credits

4 donation events (8 items each event) = 0.5 credit
8 donation events = 1 credit
o Credit will only be given for the first 8 items donated (more than 8 items will not be counted for another donation credit)

A donation credit appears as .125

Missing Points

Any missing points at the end of each semester should be sent to the VP for review. The VP's email is listed at the top of the page in the SNA officer table.
Upcoming Conventions
| | | |
| --- | --- | --- |
| April 6-10, 2022 in Salt Lake City, Utah | NSNA | |
Meeting Minutes
Newsletters
Fundraiser
 
Classic Cardiology stethoscope - $100
 
Procardial C3 stethoscope - $120

---

 
MD One stethoscope - $50
 
Acoustica lightweight stethoscope - $20

---

 
Calibra Pro Sphygmomanometer - $30
 
Medica Palm Sphygmomanometer - $50

---

 
Clinical Clipboard - $20
 
 
Helpful Links
National Student Nurses Association (NSNA)
www.nsna.org
Louisiana Student Nurses Association (LASN)
www.lasn.org
NSNA Code of Professional Conduct
https://www.dropbox.com/s/5k0wr4sw3bisiho/Code of Professional Conduct.pdf?dl=0
NSNA Code of Academic and Clinical Conduct Interpretive Statements
https://www.dropbox.com/s/sdk51g6r3c2pzpc/Code of Academic and Clinical Conduct With Interpretive Statements.pdf?dl=0
NSNA Student Bill of Rights and Responsibilities
https://www.dropbox.com/s/4z3f18l3knxehw0/Nursing Student Bill of Rights and Responsibilities.pdf?dl=0