Email
---
How do I access my LSUHSC email account?
Go to the following web address: http://lsuh.sc/o365mail/
Type in your user ID in the "Log On" text box and press "Enter". You will then be prompted to enter your user ID and password.
---
I can't reply to or forward messages in Outlook Web Access.
This problem is usually due to a pop-up blocker installed on your computer preventing the new window from opening. To resolve the problem with the pop-up blocker built into Internet Explorer, do the following:
Open Internet Explorer
Click on the Tools menu, click Pop-up Blocker, and then click Pop-up Blocker Settings.
In the Address of Web site to allow box, type: https://mail.lsuhsc.edu/owa
Click Add, and then click Close.
Note: You may have more than one pop-up blocker installed on your computer. Browser toolbars (Google, Yahoo!, AOL, etc.) as well as certain security software may come with pop-up blockers. See specific information regarding those products to learn how to configure them to allow pop-ups from the Outlook Web Access site.
---
My password is about to expire. How do I change it?
If your password is about to expire, you will receive a message to that effect when you log into your email account. To change your password:
1. After you log into your email, click on the "Options" button.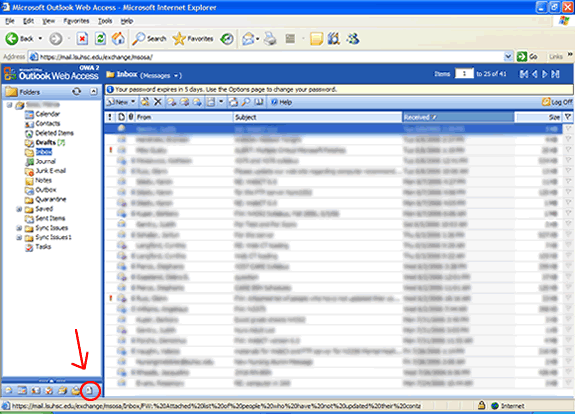 2. On the Options page, scroll down and click "Change Password".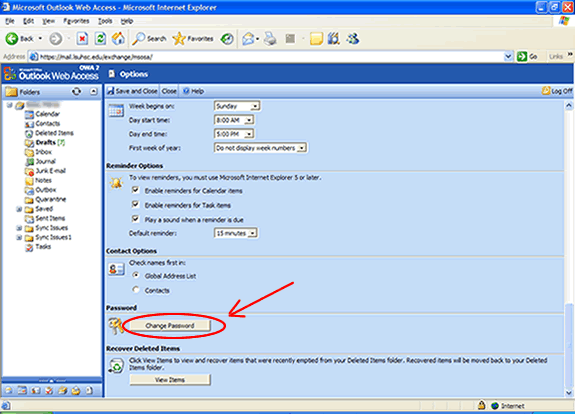 3. In the pop-up window that appears, type in "lsumc-master" for Domain, your user ID for Account and fill in the fields for old and new passwords.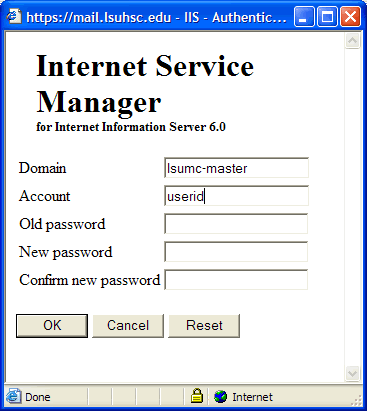 ---
My password has expired and I can't log in. How do I reset it?
You can reset your password at the Change Password page:
http://www.lsuhsc.edu/ChangePassword
---
I have tried resetting my password, but still can't log in to my email account - who do I contact?
If you've reset your password at the Change Password page and still cannot log in afterwards, contact Ms. Michele Lowery between the hours of 8:30am and 4:00pm at NSComputerSupport@lsuhsc.edu or stop by her office room 309. For after-hours or weekend help, please contact the help desk at 504-568-HELP.
---
How do I get LSUHSC email on my phone or handheld device?
First, please note that any time you change your LSUHSC password, you must also update the password stored on your device. Instructions on how to configure your device are located at the following web address:
http://www.lsuhsc.edu/admin/it/email/mobiledevices.aspx
When prompted to log in, follow example below: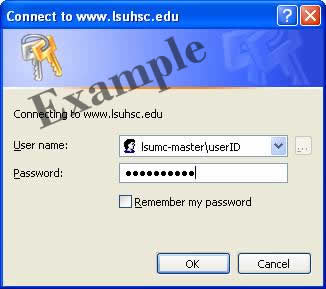 ---
What are some recommendations for email etiquette?
1. Be concise and to the point.
Do not make an e-mail longer than it needs to be. Remember that reading an e-mail is harder than reading printed communications and a long e-mail can be difficult to read. Keep sentences to a maximum of 15-20 words.
2. Do not use email to discuss confidential information.
If you don't want your email to be displayed on a bulletin board, don't send it. Once sent, it is public. Never make discriminating comments in emails, even if they are meant to be a joke. Email is also a permanent record that doesn't go away.
3. Use proper spelling, grammar & punctuation.
Important for conveying professionalism and the true intent of the message.
4. Be courteous and professional.
Limit sensitive or emotional topics of conversation via email- have them in person instead. It is difficult to communicate tone via email and your message may be misinterpreted.
5. Answer in a timely manner.
Email communication is chosen because the sender wishes to receive a quick response. Each e-mail should be replied to within a reasonable time frame, and preferably within the same working day. If the email is complicated, just send an email back saying that you have received it and that you will get back to them.
6. Do not write in CAPITALS.
IF YOU WRITE IN CAPITALS IT SEEMS AS IF YOU ARE SHOUTING.
7. Read the email before you send it.
A lot of people don't bother to read an email before they send it out, as can be seen from the many spelling and grammar mistakes contained in emails. Apart from this, reading your email through the eyes of the recipient will help you send a more effective message and avoid misunderstandings and inappropriate comments.
8. Do not overuse Reply to All.
Only use Reply to All if you really need your message to be seen by each person who received the original message.
9. Be careful with formatting.
Remember that when you use formatting in your emails, the sender might not be able to view formatting, or might see different fonts than you had intended. When using colors, use a color that is easy to see against the background color of your email. Also, Chancellor's Memorandum 42 (CM 42) Information Technology (IT) Infrastructure cautions against using unnecessary backgrounds in emails as it creates a direct cost to LSUHSC.
10. Take care with abbreviations and emoticons.
In professional emails, try not to use abbreviations, such as BTW (by the way), LOL (laugh out loud), smiley :-). Your recipient may not know what it means.
11. Use proper structure & layout.
Since reading from a screen is more difficult than reading from paper, the structure and lay out is very important for e-mail messages. Use short paragraphs and blank lines between each paragraph. When making points, number them or mark each point as separate to keep the overview.
12. Do not forward chain letters.
Do not forward chain letters and delete the letters as soon as you receive them.
13. Use delivery and read receipts judiciously.
This feature may not always work efficiently since the recipient could have blocked that function or his/her software might not support it. If you want to know whether an email was received it is better to ask the recipient to let you know if it was received.
14. Do not copy a message or attachment without permission.
Do not copy a message or attachment belonging to another user without permission of the originator. This is an infringement of the copyright laws.
15. Use a meaningful subject.
Try to use a subject that is meaningful to the recipient as well as the sender.
16. Don't reply to spam.
By replying to spam or by unsubscribing, you are confirming that your email address is 'live'. Confirming this will only generate even more spam. Just delete.
17. Use cc: field sparingly.
Try not to use the cc: field unless the recipient in the cc: field knows why they are receiving a copy of the message.
---
How do I add my Emplid #, level, and program to email correspondence?
Outlook via Quicklinks Office 365
1. Log into Outlook through Quicklinks Office 365.
2. On your LSU Health Outlook ribbon, click on the settings Cog.

3. Click on View all Outlook settings.
4. Click on Compose and Reply.
5. Enter in your Emplid #, level, and program into the "E-Mail Signature" text box.
6. Click "Save".
Outlook (Desktop App)
1. Open Outlook.
2. Click File > Click Options.
3. Click Mail > Click Signatures.
4. Click New > Enter a name for the Signature.
5. Enter in your Emplid #, level, and program into the "E-Mail Signature" text box.
6. Click "Ok"
When composing an email that requires you to include this info, click the "Insert Signature" button and it will be automatically placed into the message.