Wireless
---
What are the policy and requirements regarding wireless access?
Network Use Policy:
When utilizing wireless networks at LSU Health Sciences Center, clients must abide by Chancellor's Memorandum 42 (CM-42) which institutes an enforceable policy to protect the performance, integrity, security, reliability, and continuity of vital services that rely on the LSUHSC IT infrastructure through good citizenship and legal and ethical use.  Noncompliance with CM-42 could result in disciplinary action up to and including termination of employment, dismissal from an academic program, and civil or criminal liability.  The complete policy can be found at: http://www.lsuhsc.edu/administration/cm/cm-42.pdf.
Wireless Requirements:
LSU Health Sciences Center requires individuals connecting to a wireless network with a personal laptop to authenticate themselves via the Protected Extensible Authentication Protocol or PEAP.   The following documentation provides a step-by-step walk-thru for configuring your wireless laptop for PEAP. 
There are two ways to configure your wireless card on your laptop.  You can either configure your laptop using the client utilities that come with your specific card or you can configure your laptop through the Windows wireless configuration tabs.  The instructions below apply to configuring wireless through Windows.  Card specific configurations are not supported by LSUHSC.
Most home wireless networks or local coffee shops do not require any security to access.  These non-LSUHSC networks commonly will not have the same security requirements or need to maintain continuity of service.  Thus you should be aware that the configuration settings below apply strictly to LSUHSC wireless networks.  Other network settings or configurations may be required when utilizing non-LSUHSC wireless networks.
---
How do I configure my Windows 7 laptop to access the wireless network at the School of Nursing?
1. Click Start, and then Control Panel from the Windows 7 desktop. In the Network and Internet group, click View network status and tasks.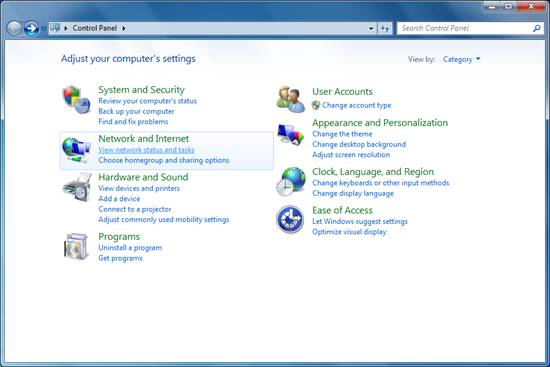 2. Click Manage wireless networks, then Add.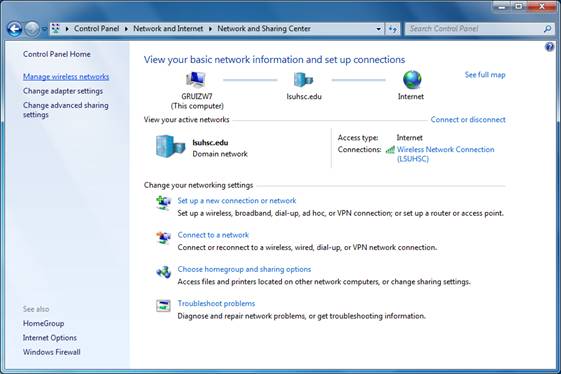 3. Click Manually create a network profile.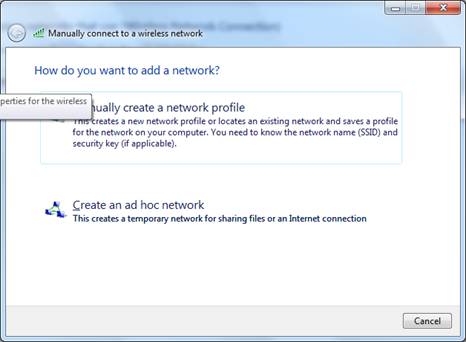 4. Type LSUHSC-Secure for Network name; Choose WPA2-Enterprise as the Security type; AES encryption type should be automatically selected.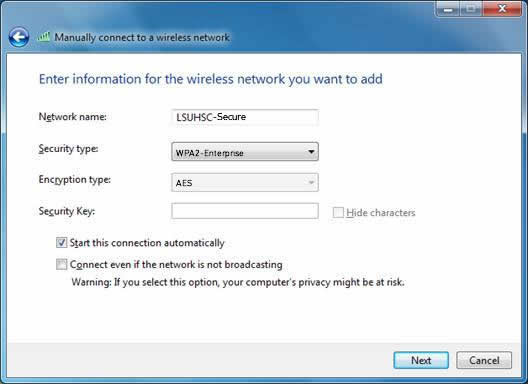 5. Click Change Connection Settings.  Click the Security tab and click Settings.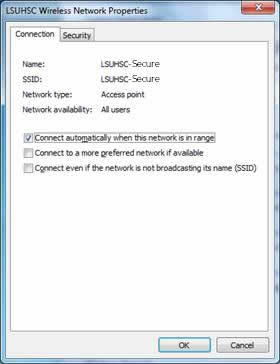 6. Under the 'Protected EAP Properties' tab, check the box next to 'Validate server certificate'.  From the drop down menu titled 'Trusted Root Certification Authorities', scroll through the alphabetical list and check 'GTE CyberTrust Global Root'.  Also, uncheck the box next to 'Do not prompt user to authorize new servers or trusted certification authorities'.  Under 'Select Authentication Method:' choose 'Secured password (EAP-MSCHAP v2) from the drop-down menu. Click the Configure button and uncheck the box for Automatically use my Windows password.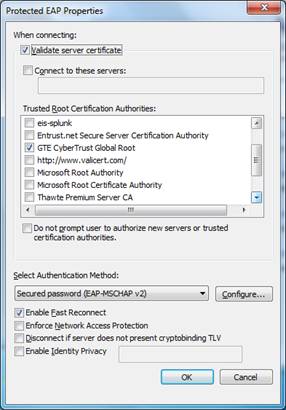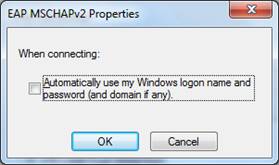 7. Log on to the wireless network using your LSUHSC network ID and password.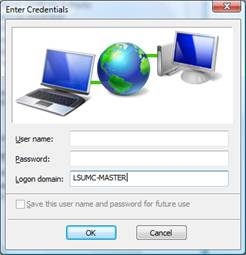 ---
How do I configure my Mac to access the wireless network at the School of Nursing?
1. Open Network Preferences and click Advanced...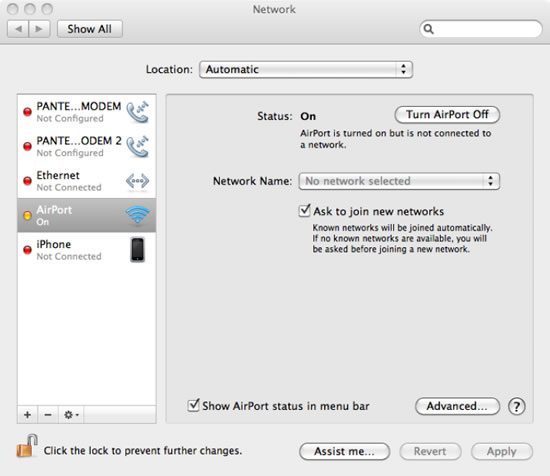 2. Click the plus sign to add a new network.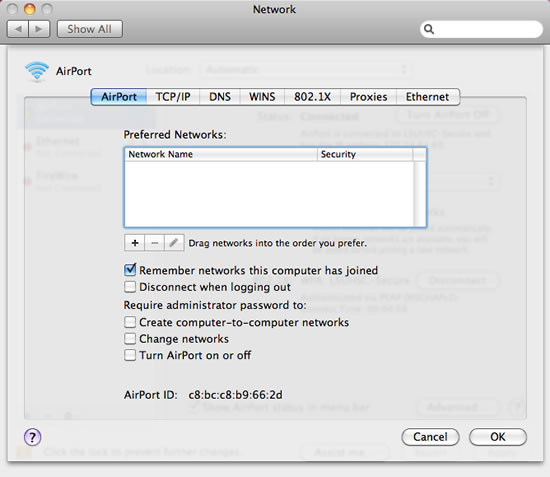 3. Fill out "LSUHSC-Secure" as the Network Name and "WPA2 Enterprise" as the Security type and your network User Name and Password.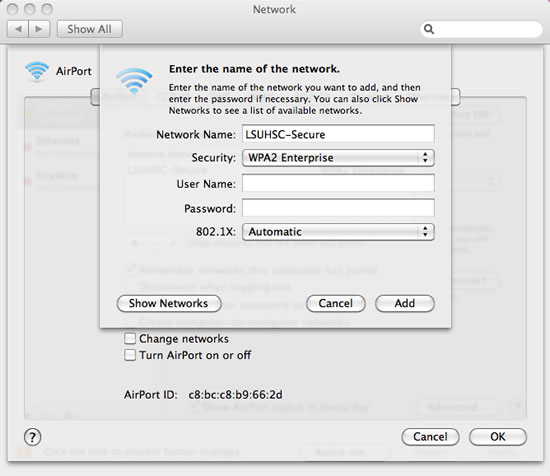 3. Click Add and OK and it should establish a connection.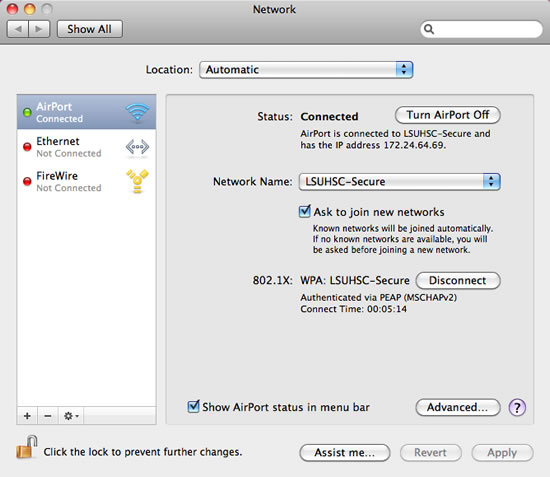 Troubleshooting: If you had previously added LSUHSC-Secure into the list of networks and are now unable to connect, you may need to remove it from the list by highlighting it and clicking the minus sign, apply those changes, then re-add it.
---
I was unable to connect to the wireless network after following the configuration instructions. Who do I contact?
If you are unable to connect to the wireless network after following the configuration instructions, please contact: NSComputerSupport@lsuhsc.edu
---
How do I connect my iPhone or iPad to the wireless network?
First, please note that when you change your network password every month, you will need to go into your device and update it there also or your account will get locked out because it will try to connect to the network with your old password.
On your iPhone or iPad:
Go to Settings
Select Wi-Fi
Select LSUHSC-Secure
Enter lsumc-master\username and password
Click Accept for certificate