Model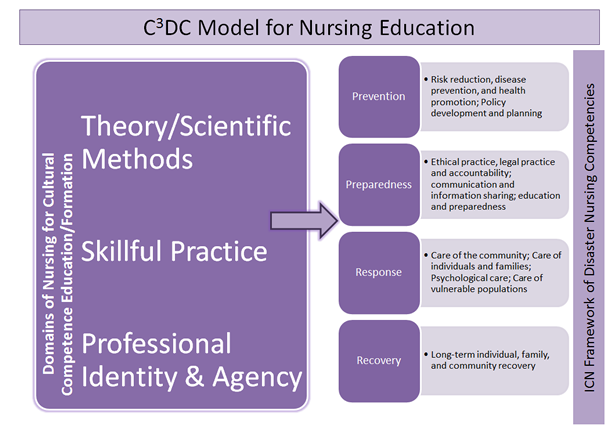 Cornerstone of Cultural Competency During the Disaster Cycle addresses the 4 phases of the disaster cycle and include:
Community/public models and theories empower nurses to assist diverse citizens to navigate through the health care system utilizing the skills of communication, collaboration, negotiation, delegation, coordination, and evaluation of interdisciplinary work and, the application of evidence-based practice models in times of disaster.
The nursing process to culturally diverse individuals, families, aggregates/populations to promote health and wellbeing as well as collects, summarizes and interprets information relevant to disasters.
Discussions on the meaning of cultural diversity and its significance for vulnerable populations.
Linking culture, health beliefs and health practices.
Understanding the relationship between ethnicity and healthcare disparities in disasters.
The contents of the Cornerstone of Cultural Competency During the Disaster Cycle (C3DC) Program are the Intellectual Property of LSUHSC School of Nursing and shall not be reproduced or copied without expressed permission.